Chelsea is back in Malaysia since their last visit back in 2008. Back then, they were just hot off the World Cup frenzy with Michael Ballack being the big draw for the fans, Even non-Chelsea fans but supporters of Germany was there to watch them play in National Stadium. This time around, the big draw is the new manager that Chelsea managed to pry away from Porto, hot off his Europa Cup win, Andre Villas-Boas will be coming into the star studded team and stamp in his authority with us being lucky enough to catch a glimpse of what to expect in the 2011/2012 season.
Might we even get to see Roberto Di Matteo in the stand as well working closely with Villas-Boas to help Roman Arkadyevich Abramovich's team win the Premier League and any trophies they are in contention for? Definitely not, I prefer to watch Manchester United win them all but then, that's because I'm a fan of MUFC. But nevertheless, I'm a big football fan first and a club fan second. So I am excited as a fan to be able to go catch these players in Action, thanks to the guys from Noobie for running this contest and for Samsung to bring the team over again.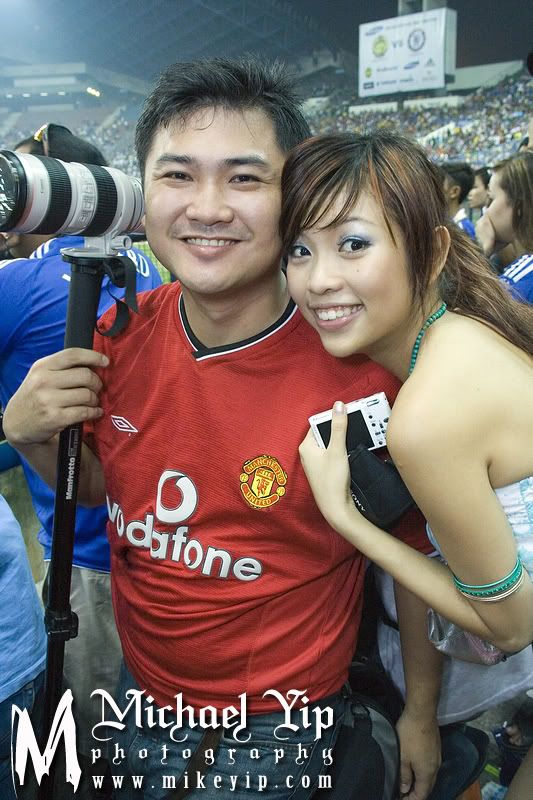 Back then, my watermark was fugly but nevertheless, did show that I was there, in my Manchester United jersey. Am not ashamed to wear my own club's jersey to a match between Malaysia XI vs Chelsea Football Club and I will do so again on 21st July 2011! I'm not a bandwagon supporter that just go out and buy jerseys of the teams that is coming to Malaysia just to show support. I know quite a number of people that's like that going around looking for jerseys just because the team is coming and they want to be seen in Blue but that is their choice and not mine.
The major highlight for me is watching our team in action against the club. The Malaysian team has come leaps and bound over the recent years and I hope they will maintain their momentum and give Chelsea a run for their money. It will definitely make my day if Malaysia can win the match even if it's by the slimmest of margin or by fluke.
For the people who isn't that much into blogging, there's also chances to win passes is by purchasing any Samsung product(s) worth at least RM300 in a single receipt and enter the SMS contest as published in the poster below. Not only can you stand a chance to win a ticket to watch Chelsea live, you might get a chance to sit with the team during the match!
So are you a big Chelsea fan and can't wait for the team's arrival onto our Malaysia shore? It's all happening real soon and am definitely looking forward to the match.
Comments
comments